BEND, OR – A recent company email addressed to 'Everyone' read, "It's that time again, and collections are needed as people typically donate less during the summer, while need increases. Please let me know if you could take a bag or two. I can bring by your office and will be delivering the filled bags week of August 8th."
Myra Girod
, a Principal Broker with Cascade Sotheby's International Realty, is passionate about giving back. One cause that she is a strong advocate for, is providing food for her fellow Central Oregon neighbors. In fact, Cascade Sotheby's is a devoted proponent of community support programs. To date, the company driven
Spark Project
, has contributed thousands of dollars in donations to many different charitable organizations throughout Oregon and SW Washington. As dedicated as she is to promoting the best interests of her real estate clients, Myra has diligently served as a volunteer and through her efforts and infectious enthusiasm, has influenced fellow brokers to assist. One such recipient of her efforts include
The Bend Food Project
.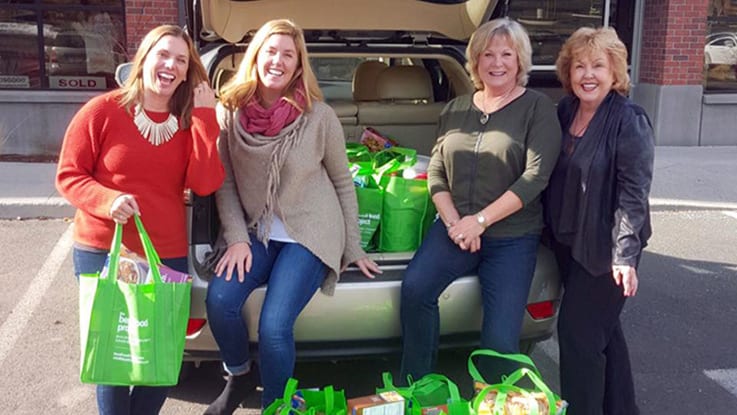 Bend Food Project
The Bend Food Project is an all-volunteer organization dedicated to the year-round collection of non-perishable foods. Their mission is to provide a consistent supply of food to the local food banks who distribute food to food insecure families in the community. The foundation is structured as a network of food donors and coordinators. 'Neighborhood Coordinators' collect non-perishable food from their 'neighborhood food donors' once every two months. A re-usable green Bend Food Project bag is given by the Neighborhood Coordinators to their neighborhood of food donors. All food collected is then distributed to a local food bank in the Bend/LaPine area.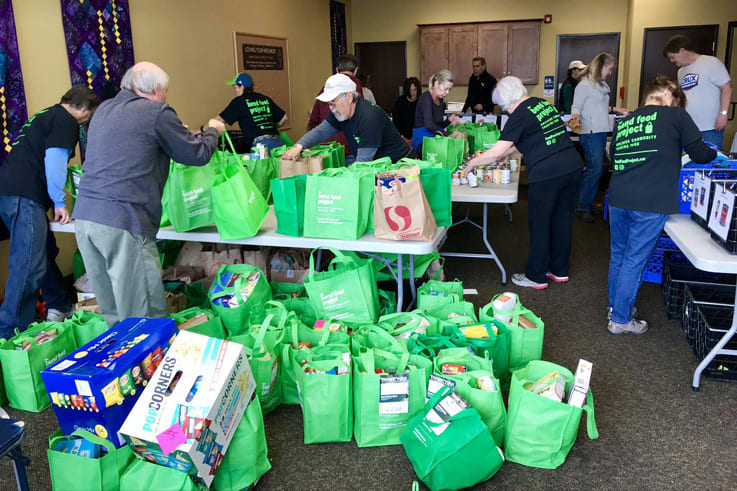 Since 2015, the Project has collected over 200, 545 pounds of non-perishable foods (160,436 meals). Their goal now is to collect 100,000 pounds of non-perishable food EACH year. Many are unaware, that, in our tri-county area (Deschutes/Jefferson/Crook), there are over 20,000 people who access emergency food every month. Thankfully, The Bend Food Project is there to help. Many local schools are operating programs that involve students and their families in the collection of food items for donation. It is about students learning compassion and awareness of the many individuals and families in Bend who need support.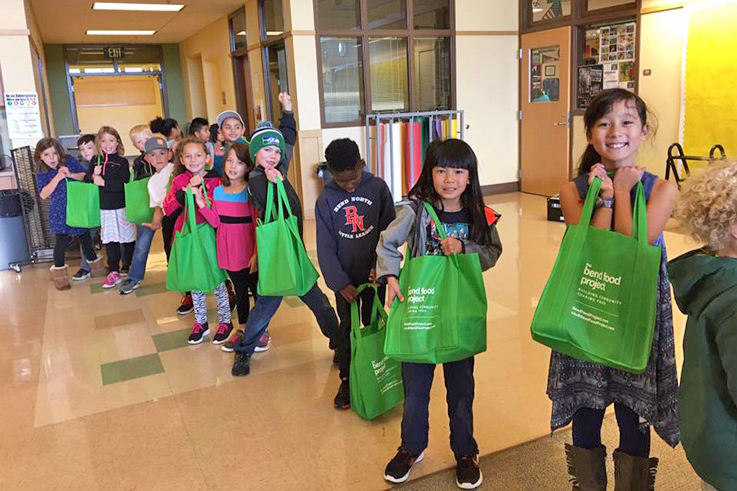 Sue and Larry Marceaux are founders of the project. In its first year, the Bend Food Project collected more than 40,000 pounds of food for donation. The Morceauxes, of Bend, state that the program's quick growth was a pleasant, if not overwhelming, surprise. Anyone involved with the project, including the Marceauxes, are volunteers. Since then they have appointed a board of directors, who have developed a business plan to help the project continue to grow. "We weren't really sure what to expect, but we also knew Sue and I wanted to be very modest, to build a firm base with a small group of people," Larry Marceaux said.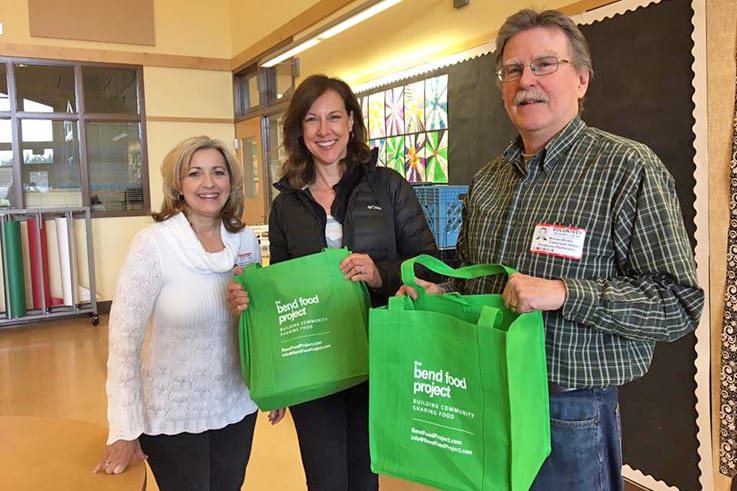 Sue Marceaux said the growing popularity of the Bend Food Project relates to its simplicity. "It is modeled off the Ashland Food Project, where community members fill green reusable bags of food every two months and leave it on their doorsteps for volunteers to pick up and bring to a local food bank. In this case,
The Giving Plate
, a Bend food pantry, being a main recipient. It's a very simple program, and that's been the beauty of it," Sue Marceaux said. "It really builds a sense of community." In August 2015, at its start, the program had 12 neighborhood coordinators. By October, it had 20. Now it has more than 40. The number of businesses contributing to the Bend Food Project in the last year helped propel it forward.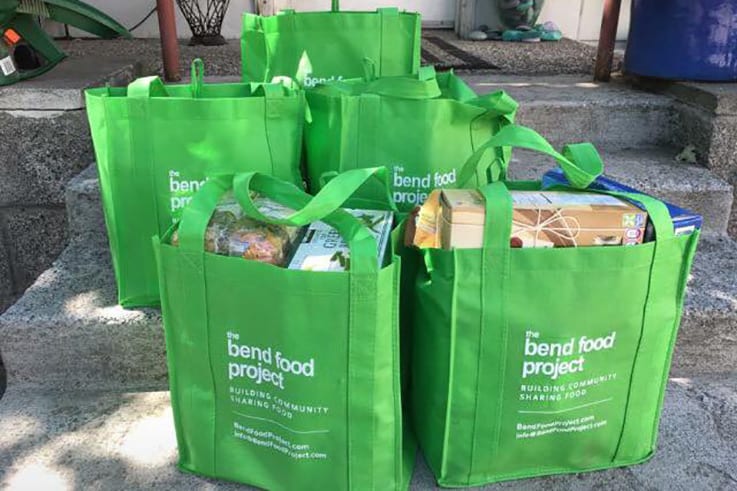 Beyond its own transformation in the last year, the project has helped change the model of The Giving Plate. The food pantry used to buy most of its nonperishable food with grant money, but now with Bend Food Project donations, that money can go toward fresh food. The Giving Plate now has more meat, dairy and produce to offer its clients: people who fall within the U.S. Department of Agriculture poverty guidelines. And because they have more nonperishable food donated, The Giving Plate has more options for how to give out food. Whereas clients used to pick up boxes of food packed for them by The Giving Plate volunteers, now they will be able to choose the foods they want.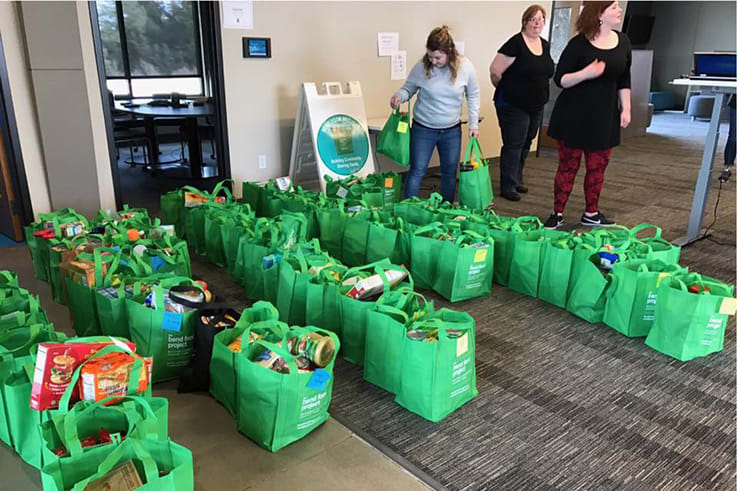 Larry Marceaux said the Bend Food Project has grown to the point where it is collecting food year-round outside the scheduled events, from schools, churches and business. More than 70 volunteer coordinators go around town collecting green bags full of food from about 1,000 donors. Each month, Larry Marceaux estimates the Bend Food Project feeds between 700 and 900 families. Of those in need, the fastest growing group is senior citizens who are on fixed incomes and Social Security, Larry Marceaux said. Only about 4 percent of the food goes toward the homeless, who usually use other options such as shelters and community kitchens, he said. Operating year-round helps fill The Giving Plate beyond the holidays, especially in the summer months when the least amount of food is donated, Larry Marceaux said.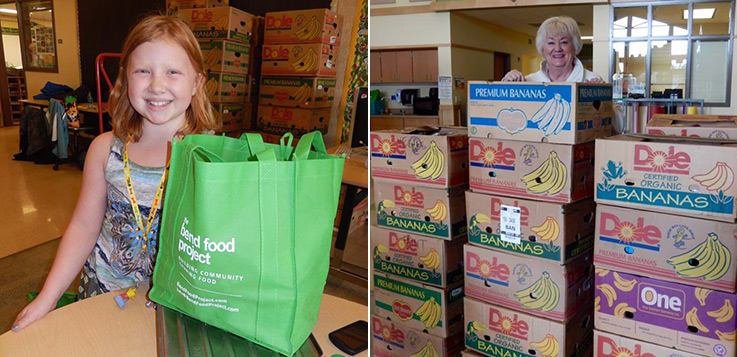 "As the Bend Food Project continues to grow," Larry Marceaux said, "The hope is to expand and partner with other food banks in the region. "We want to get to the point where we are outperforming The Giving Plate, and hopefully support some of the other pantries in Bend as well," he said. "The Bend Food Project is a revolutionary way to collect food. It's a donor drive, not a food drive." The next collection will be on August 11, 2018 – so, go pick up your green bags!


What You Can Do?
Volunteer to help grow the organization

Become a Neighborhood Coordinatorand build a neighborhood of active food donors

Become a food donor

Donate money
Items in Need
Fruit snacks/fruit cups

Protein bars

Microwave popcorn

Crackers/cookies

Oatmeal/Individual cereals

Individual drinks/juice boxes

Canned meat (tuna/chicken)

Individual peanut butters

Snack mixes/trail mix

Oranges/apples

Canned fruits and vegetables

Soups/chili

Canned meals

Boxed meals

Mexican food items

Rice/dry beans

Mac/Cheese and Top Ramen

Breakfast items/cereal

Bakery items (flour/sugar/etc)

Pasta/pasta sauce

Drinks

Baby food/formula
References
www.volunteercentraloregon.org
www.bendbulletin.com
www.bendsource.com